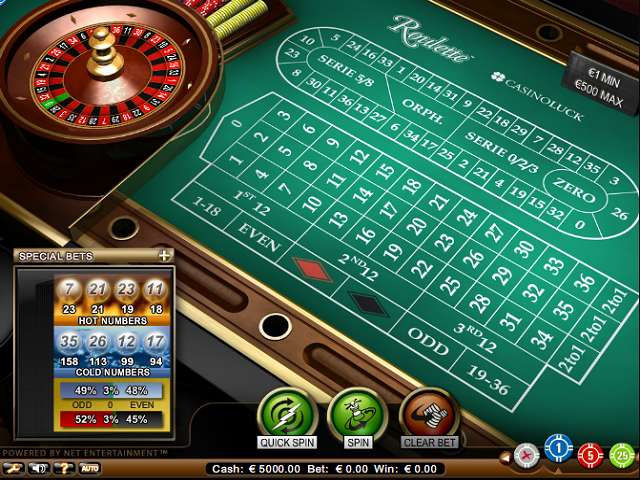 Roulette Pro por NetEnt
Si buscas un ambiente de auténtico casino y diferentes formas de apostar sin abandonar la comodidad de tu hogar, deberías echar un vistazo a la Ruleta Pro. Proporcionada para ti por Net Entertainment, esta variante de la ruleta europea cuenta con unos gráficos increíbles, música de casino muy lograda y un Panel de Apuestas Especiales. Este panel te ofrece la oportunidad de apostar en varias combinaciones de colores y números. Hay un conjunto estándar de opciones que incluyen tiradas rápidas, juego rápido, apuestas especiales, reproducción automática y ajustes de sonido.
The main features include a Poster, a Circuit that provides an alternative way to bet and a Special panel to bet. The poster provides information such as the latest numbers that have come out, collective statistics for all the online casinos and allows you to bet on Hot and Cold numbers. The hot numbers are the 4 that have come out the most in the last 500 rolls. Below each number you can see the number of times each one has gone out. The cold numbers represent the least that come out and below them it shows how many runs have not been released.
The Special bet option allows you to place bets such as Red Splits, Black Splits, Orphelin Plein and others. When passing over a bet field, the numbers on the table light up. The game allows total bets between € 1 and € 500.
Juegos Relacionados