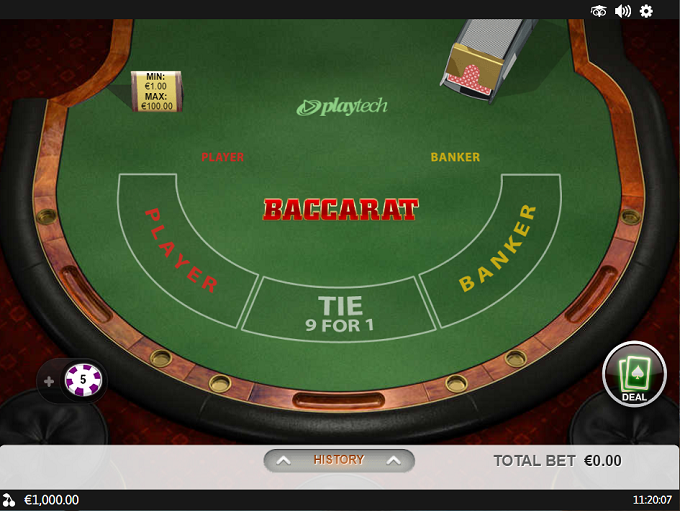 Bacará por Playtech
Playtech brings us their vision of what Baccarat online should look like, with a polished but simplistic and minimalist style. This game follows the rules of standard Baccarat and does not waste animation or visual effects too complicated, offering a solid and easy to use experience.
The game is developed as follows: the player bets on his own hand, on the hand of the bench or a draw. Once the bet is in play, the dealer deals out two cards for the bank as for the player, the one with the value of the hand closest to 9 wins the opponent's bet, while a tie pays 9 to 1!
The values ​​of the hand are calculated according to the Baccarat standard, each of the numbered cards except the 10, play their value, while the 10 or greater count as 0 and the Aces are 1. If the value of the hand is 10 or greater, only the second digit acts as a total value.
Las apuestas varían de €1 a €100. Al igual que con otros juegos de Baccarat, hay un 5% de comisión para la casa cada vez que ganas cuando apuestes a la mano de la banca, lo que te costará un máximo de €10 sobre €200. Puedes ajustar la apuesta deseada clicando en la denominación de la ficha. A continuación, se te pedirá realizar una apuesta sobre el jugador, banquero o un empate.
Con el fin de empezar a jugar, es necesario estar familiarizado con los conceptos básicos del juego. El juego se juega con una baraja de 52 cartas y tu objetivo es predecir de forma correcta si tú o el banquero conseguirá una mano que sume un total de 9 o una mano cercana a 9.
Depending on the value of the two cards, both the dealer and you can request that a third card be dealt. Pressing the Deal button automatically distributes the new card (s). If you decide to bet on a tie and in case of a tie, the winning bets for the tie are paid and the bets on the banker or the player are returned.
Juegos Relacionados